Undecided about a career or major? We've got ideas to help! 
Deciding on a successful career path involves understanding yourself, your options, your goals and the actions needed to accomplish them. 
Whether looking to launch your first career or transition to something new, Waubonsee is ready to guide you through the decision-making process that leads to a successful and satisfactory career path. And best of all, these resources are free! 
Taking the First Step
Talk to a Career Advisor who can introduce and explain career assessment tools, career exploration resources, academic program options and paths, along with internships and service learning opportunities. 
Career Development
(630) 466-2368
careerdevelopment@waubonsee.edu     
A Note About Majors
Deciding where to attend is just the beginning of many important decisions you'll make during your college experience — choosing a major or degree path is another crucial one. 
What is a Major?
Your major is the program of study or academic area that focuses on coursework that aligns with your interest. 
What a Major is Not
A major is NOT your identity. In no way does a major define you. However, it does play an important role in your college experience — impacting how you select coursework, pursuing major-related experiences (internships, study abroad), choosing extracurricular activities (clubs, volunteering) and possibly adding a certificate or secondary major. 
A major is NOT your career. The world of work is in a constant state of change; whatever you major in today doesn't mean you're limited to only that in your career options. Recent studies show that people entering the workforce for the first time now will have about 15-17 different jobs in four to five different industries. Pursuing a specific major at Waubonsee ensures that you are building a desired set of skills that can evolve and flex with the changes in a dynamic workplace. 
A major is NOT what others think you should study. Family and friends can be good sources of information and insight, but the best expert of all is YOU! Study what you love and what makes you happy. School is challenging enough. Choosing a major that interests you will keep you motivated and focused on your studies. 
Internships and Experiences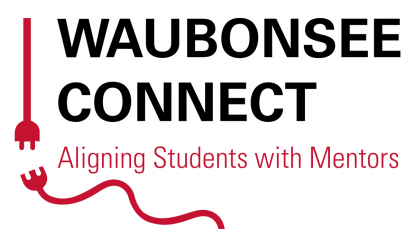 Connect with the Waubonsee Community to help select your major!
Find out what you need to know about selecting a major from people who are enrolled in or have completed our programs. Connect helps you establish relationships within the Waubonsee community. This free online resource will help you craft professional messaging and set up virtual or in-person meetings with people who can help you. Join today!