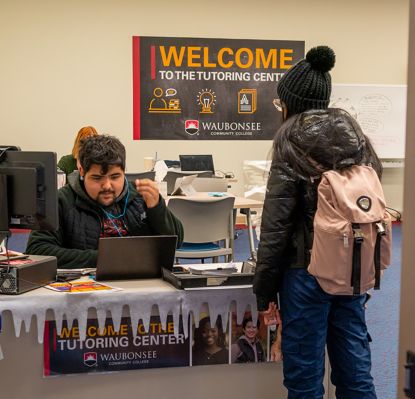 Tutoring to help you succeed
Waubonsee Community College Tutoring Centers offer Live Chat/Zoom drop-in or in-person appointment-based tutoring services. Our goal is to provide free and convenient academic support for all Waubonsee students. Waubonsee Tutors are dedicated professionals who create supportive and enriched online environments to assist you when you need them.
Fall 2023 Open Hours
Sugar Grove
Collins Hall 144
Mondays - Thursdays
9 a.m. - 3 p.m.
Aurora Downtown
Rooms 215 & 217
Mondays - Thursdays
11 a.m. - 6 p.m.
Online
*Requires mywcc student login.
Here's How We Can Help You Succeed
FAQs About Tutoring and Coaching Sessions
When is the Tutoring Center Open?
What Should I Bring to My Tutoring or Coaching Session?
What Can a Tutor Help Me With?
What Can an Academic Coach Help Me With?
What If You Don't Have a Tutor for My Subject?
Can I Just Walk-In or Do I Need an Appointment?
Course Navigator
If you have had an online, flex, or hybrid course, you may have been introduced to a course navigator. A Navigator is a direct link to help you connect to non-content questions and resources. The navigator will be embedded in your courses via Canvas and Zoom. They can assist you with connection to college resources, such as tutoring, academic coaching, and library services.  
Navigators CANNOT assist you with instructional questions (please speak to your instructor for that), but they can help you be a successful student.