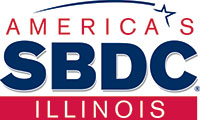 Through the SBDC, small business owners, both prospective and existing, can obtain essential management, marketing and financial coaching. We offer FREE one-on-one coaching and a wide variety of low-cost events and workshops to help make your business a success.
We can help you:
Perform a financial checkup
Troubleshoot management issues
Develop marketing strategies
Create a business plan
Identify funding opportunities
Plan growth strategies
The SBDC at Waubonsee Community College is funded in part through a cooperative agreement with the U.S. Small Business Administration and the Department of Commerce and Economic Opportunity.