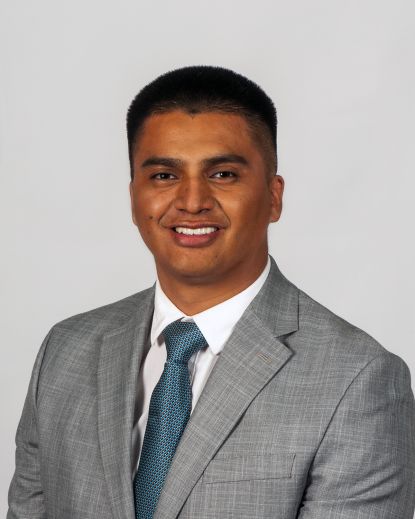 Franklin Ortega-Palaguachi
Latinx Resource Center Manager
My name is Franklin Ortega Palaguachi and I serve as the Latinx Resource Center Manager at Waubonsee Community College. I was born and raised in Ecuador, where I lived for 17 years. I started my education journey in a little Escuelita named Juan Jose Salinas in my Ranchito Corralon. I attended four years of high school, in mi colegio Javier Loyola. These institutions are in Cañar province of Ecuador.   
Moving to the United States for the American dream, I had to learn English and work full time to help my family while I started high school as an ESL (English Second Language) student. Later, my only choice and the best choice was to continue my education at Oakton Community College. Thanks to mentors and a few people who believed in me I was able to successfully pass my developmental courses (English and Math) and complete my transfer course in three years.   
Already at Northeastern, I wanted to be involved in activities and leadership initiatives. During my undergraduate years at NEIU, I was a Student Trustee, McNair Scholar, and participated in various organizations focused on leadership and the success of students of color. Also, I am proud to be one of the Founders of Phi Iota Alpha fraternity, Beta Phi Chapter.   
My involvement at NEIU and the valuable support I received from faculty mentorship helped me appreciate higher education and choose this wonderful path as a career. After graduation, I received my Master's in Educational Leadership, Higher Education Administration from the same institution.   
After a few years, I came to Waubonsee's Latinx Resource Center with experience working in various private and public universities and community college institutions. I worked on student retention initiatives, mentoring programs, and multicultural spaces. In addition, I have created programs to support students to help them transition from high school to college and to create inclusive support for undocumented students.   
A couple of fun facts about me: I love dancing Folklore music from Ecuador and Latinx rhythms. Also, I love exports (running and soccer being my favorites).  
Education:   
B.A. in Latino and Latin America Studies, minor in Social Justice from Northeastern Illinois University.   
M.A. Educational Leadership with a concentration in Higher Education Administration from Northeastern Illinois University.   
Certificate in Diversity and Inclusion from Cornell University.