Realtors are Needed as Markets Continue to Grow
One of the most exciting aspects of becoming a licensed realtor is the opportunity to continue learning and progressing as you advance in your career. The real estate industry is constantly evolving, you will have the ability to evolve with the industry and utilize new technology to become successful and stand out from your competition. As a noncredit program, you don't have to take on the financial burden of a four-year degree.
Check out the Illinois Realtors Association Statistics on the Illinois market. It is thriving even during the COVID-19 pandemic. Get started with a career in real estate today with one of the courses below!
Types of Courses
Real Estate
Required to take the Illinois Real Estate Broker Licensing Exam, this interactive 15 hour course applies the real estate concepts introduced in REL
Required to take the Illinois Real Estate Broker Licensing Exam, this 60 hour course introduces real estate principles including agency, career opt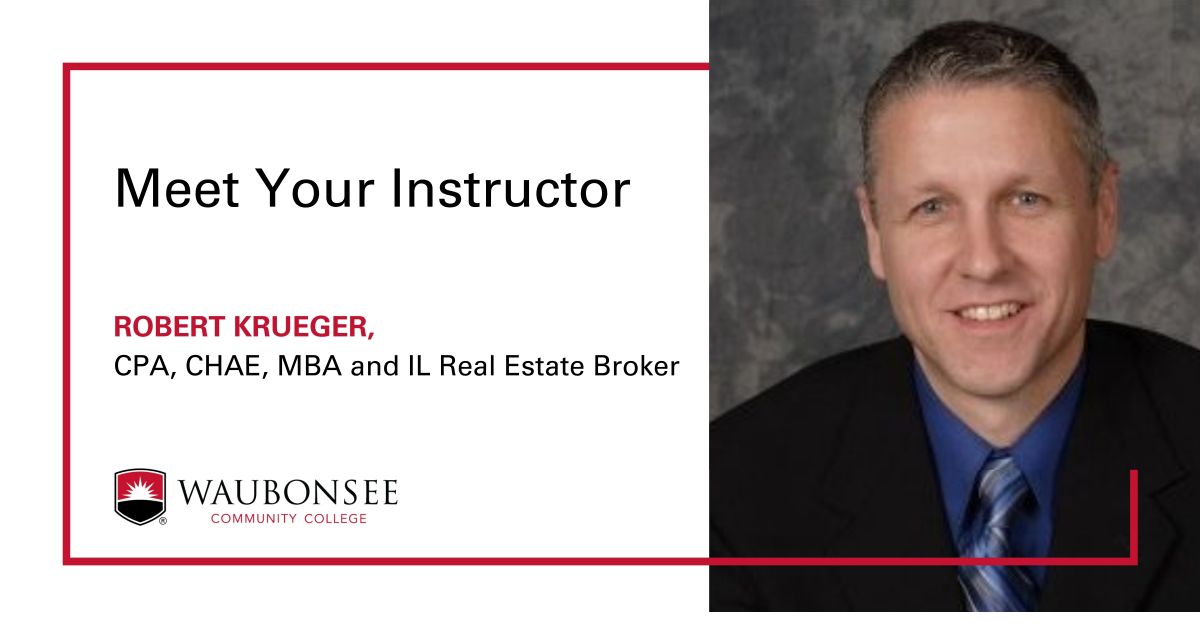 Robert Krueger is a 30-year real estate professional.  He has worked in accounting, real estate management, asset management and finance within the residential, commercial, and hospitality industries and currently the director of finance for LM Group.  He is also a consultant and an adjunct professor at Waubonsee Community College and an Instructor in the Driehaus College of Business at DePaul University, Chicago, IL where he teaches accounting, tax, and other business courses.  His previous work experience includes working for Envoy Net Lease Partners; Oxford Capital Group, The Langham Group and Stone Real Estate Financial Group (for 15 years), which was a full-service real estate asset management and investment advisory firm.  His prior experience also includes Strategic Realty Advisors and VMS Realty Partners.
Krueger began his career as an auditor after graduating from the University of Illinois - Urbana/Champaign majoring in Accounting and minoring in Real Estate Finance.  He is a Certified Public Accountant (CPA) and licensed Real Estate Broker in the State of Illinois with the Illinois Department of Financial and Professional Regulation (state regulator).  He is also a Certified Hospitality Accountant Executive (CHAE).  He earned his MBA in Management from Northern Illinois University and is currently a Ph.D. Candidate at Iowa State University.
Krueger is affiliated with the Chicago Association of REALTORS® (NIREIN), The Illinois CPA Society, Financial Executives International (FEI), and The Real Estate Investment Association (REIA).  He is a Leader and Committee Member in the Boy Scouts of America (BSA) helping foster and mentor over twenty Eagle Scouts as well as serves in other volunteer organizations.  Previously, for four years, Krueger served in the U.S. Coast Guard doing search and rescue.