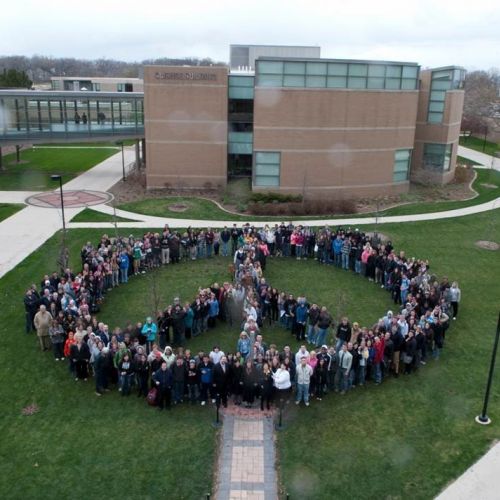 "The best way to find yourself is to lose yourself in the service of others."
Fall 2018 Initiatives
Involvement Fair
Tuesday, Sept. 5 - Thursday, Sept. 7
Various times and locations
Be sure to check out all of the community agency tables at the Involvement Fair. Learn about volunteer needs in our community and make a connection!
Campus Clean-Up
Friday, Sept. 22
9:30 a.m. - 12:30 p.m.
STC Parking Lot/ Forest Preserve Area
At least once a year, we partner with the Forest Preserve to pick up trash around campus and clear out invasive species around the Gilman Trail and our forest areas on campus.
Register here.
Big Pink Volleyball
Friday, Oct. 13
Noon - 4 p.m.
Form a team of 5 and participate in this philanthropy event for breast cancer. Registration is $25 per team to play in this double elimination tournament of fun! Check out this video to get a better picture of Big Pink Volleyball! More information to come soon on registration.
Waubonsee Giving Tree
November
Student Center
Each fall we partner with Fox Valley United Way to sponsor children over the winter holidays. As soon as United Way had the information available, we will put a holiday tree in the Student Center with tags for children who are in need over the holidays. You can sponsor a child by yourself, as a club or department, with your friends, etc. Be on the lookout!
Angel Tree Packing (Salvation Army)
Tuesday, Dec. 5, 12:30 - 4:30 p.m.
Wednesday, Dec. 6, 9:30 a.m. - 12:30 p.m.
Thousands of people donate to the Salvation Army Angel Tree program each fall/winter. Before families can pick up the gifts that have been donated to their families, everything has to be sorted and bagged. This is a massive undertaking for each local Salvation Army. Each year, we head over to their warehouse to assist with the sorting, bagging, and more!
Register here.
If you would like to know more about volunteering or our events, please contact Student Life at (630) 466-2369, STC 126, or studentlife@waubonsee.edu