Overview
The fundamental nature of the universe is at the heart of astronomy. From exploring planets and solar systems to applying knowledge to the challenges of navigation and flight, astronomers are on the front line of research and discovery.
Whether you are a science major intending to transfer into an advanced degree or a student with general interest in astronomy, Waubonsee offers interesting and exciting classes that introduce the principles of astronomy, which are directly related to physics and mathematics.
Studying Astronomy at Waubonsee
Our astronomy courses are all Illinois Articulation Initiative (IAI) courses, so academic credit will transfer to most Illinois colleges and universities and can be used to fulfill part or all the general education science requirements in many degrees.
With an astronomy background, you might manage telescope operations, analyze data from satellites and other observational equipment or work in communication or teaching.
Waubonsee Observatory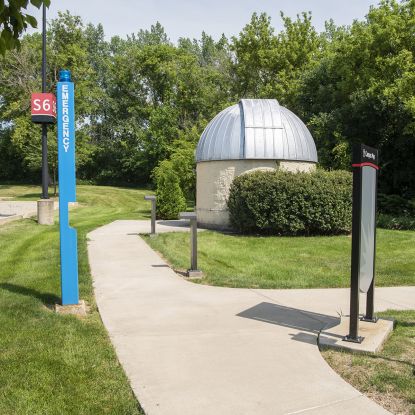 Astronomy classes have been part of Waubonsee's curriculum for decades. One astronomy instructor's impact on the program has been especially insightful. In 1986, instructor Ray Whaley learned of a telescope for sale by a private individual. Realizing the value that telescope could bring to his students, Whaley negotiated its purchase—to the delight of those students.
But Whaley's vision was just starting; next he appealed to the Waubonsee Community College Board of Trustees to build an observatory to house the telescope. He knew the observatory would be the ultimate classroom for astronomy students, and maybe even provide opportunities for the community to see the stars in a new light too.
That observatory took shape on the south side of our Sugar Grove Campus, where it stands today. Astronomy classes are indeed held within its walls and on its telescope platform, and Community Education has held special events and viewing nights.
The telescope was retrofitted in 2015 by the same company that built the Observatory and did the original installation. The lens was recoated, gears and gaskets were upgraded, and other refurbishments were completed.
The Observatory will continue to be a unique and enlightening location to study the skies.