Waubonsee Community College alumnus Presley Borvan was selected as the Private and Independent Colleges and Universities (PICU) scholarship recipient. The award includes $1,000 for the 2021-2022 academic year this fall at a local, private college or university in Illinois. 
"I feel so lucky to have gotten this scholarship," says Borvan, who completed her Associates of Sciences in Education in one year through Waubonsee's Quick Path Program. The program challenges students to complete a degree in one year with speed and support. Students enrolled in this degree path receive extra guidance in planning a course schedule for an entire year for a more consistent balance of school-work-life. 
Borvan says she has particularly enjoyed the challenge of finishing her degree in a year and believes Waubonsee was the best decision she could have made. "I think everybody should go to community college, especially one that allows your credits to transfer so perfectly. Last year, I went from being a first-year student at Waubonsee to now being a junior this fall at Aurora University."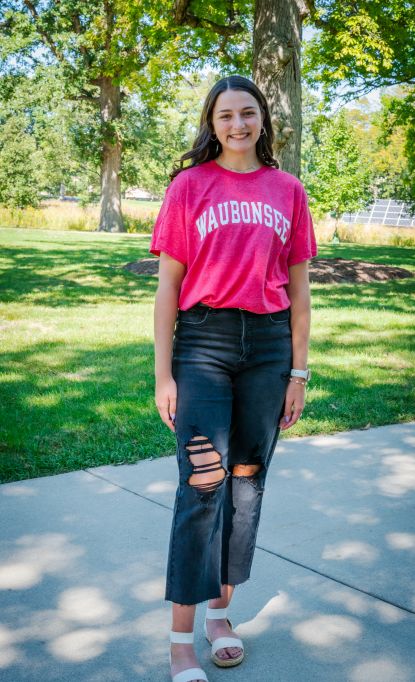 Along with finishing her degree in one year, the Gustafson Scholar completed 20 hours of community service as a student at Waubonsee and remained very active, building community by maximizing the convenience of Waubonsee's hybrid courses, which blend face-to-face meetings with online instruction.  
Borvan says Waubonsee prepared her beyond the classroom, "My experience at Waubonsee made me so comfortable, much more secure in my major, and confident in the direction of my life. I think knowing what to do, where to go for support, how to navigate college life is huge."
PICU President Wendy Downing said the PICU scholarship selection committee was very impressed with Borvan's scholarship materials. PICU is comprised of 50 Illinois-based colleges and universities and exists to ensure a smooth transition from the community college to the receiving institution. 
In October, Waubonsee will host "Transfer Talk" events to help students understand what to search for when choosing a transfer university and how to find the best fit. These virtual events will be held via Zoom as follows:
Transfer Talk: The Trilogy, Part 2 – "Explore" presented on Tuesday, Oct. 5, 3:30 to 4:30 p.m. 
Transfer Talk: The Trilogy, Part 3 – "Connect" presented on Tuesday, Oct. 12, 3:30 to 4:30 p.m.
Visit www.calendar.waubonsee.edu for more information and to reserve a place at one of these events.