The Latinx Heritage Month, Hispanic-Serving Institution's week committee goal is to promote, celebrate, educate, and raise awareness about Latinx heritage and honor the impact and influence that Latinx culture has had on American society. Our celebrations take place each year between September 15 and October 15.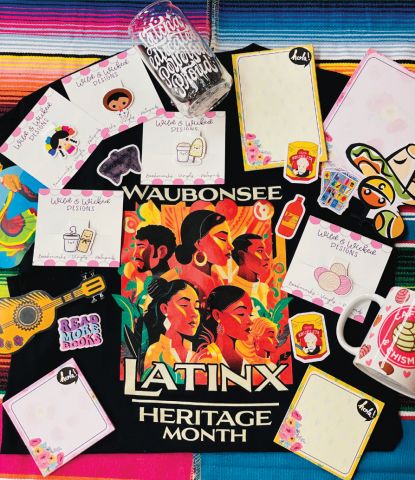 Shop the Waubonsee Bookstores!
We have awesome Latinx Heritage Month Items!
Select purchases through Oct. 15 will help support your Latinx peers.
10% of sales of select items will be donated to Waubonsee's new Cultivando el Futuro Scholarship.
Upcoming Events
Check out the events celebrating Latinx Heritage Month at Waubonsee!
Stay Connected!
Stay up to date on these events by visiting the college-wide calendar or visiting the Latinx Resource Center.  Any questions, please contact Dr. Marleigha Evans.
Waubonsee does not discriminate on the basis of any individual's actual or perceived race, color, creed, religion, gender, gender identity, sex, sexual orientation, age, national origin, ancestry, veteran's status, military status, unfavorable discharge from military service, marital status, order of protection status, pregnancy, disability, citizenship status or any other characteristic protected by law in its programs or activities. Inquiries regarding this policy may be directed to: Michele Needham, Title IX/ADA/Section 504 Coordinator, Route 47 at Waubonsee Drive, Sugar Grove, IL 60554, compliance@waubonsee.edu. Virtual events are auto captioned. If you need professional captioning, a sign language interpreter or other accommodations for an event, please contact Marleigha at mevans@waubonsee.edu. Five business days' notice is requested.