Degrees & Certificates
Overview
Kinesiology is the study of how the human body works during exercise and how sport and physical activity promote health and performance. By studying kinesiology, students will begin to learn how people can live healthier lives through exercise, physical activity and nutrition.
Waubonsee helps students get started in this growing industry with an associate degree and certificate program in kinesiology or physical education. This educational path builds the foundational knowledge to help prepare students to have successful careers as personal trainers, strength and conditioning coaches, corporate wellness specialists, physical education teachers, and sports medicine professionals.
New! 2+2 Agreement with Northern Illinois University 
This agreement makes it easy to transfer on and earn a B.S. in Kinesiology – check out the Transfer Guide (pdf).
Studying Kinesiology and Physical Education at Waubonsee
Kinesiology classes are taught in Waubonsee's new state-of-the-art Field House, which features indoor athletic courts, three-lane suspended track, and a dance and fitness studio. Students will take classes covering a variety of topics and areas of interest.
Interdisciplinary course work is enhanced by interactive hands-on activities designed to promote student engagement where theoretical concepts are applied to an athletic or sport setting.
Upon graduation, students will be skilled in evaluating health behaviors and risk factors, conducting fitness assessments, writing exercise programs, and motivating individuals to make lifestyle changes to maintain a healthy lifestyle.
Students on the kinesiology track are encouraged to complete an internship to gain field experience, develop skills, and network with professionals in the field. There are also opportunities to become certified through the American College of Sports Medicine (ACSM).
Working in Kinesiology and Physical Education
Working with clients to improve health and wellness is a rewarding career and there are multiple job opportunities available for kinesiology and physical education majors. Through coursework and experimental learning, kinesiology students learn how to assess and promote physical activity among diverse client populations and across the lifespan. Coaching and Sport Management majors study the economic impact of teams and venues. Athletic Training majors study the prevention, care, and treatment of athletic injuries.
For more information about the Kinesiology Program, please contact Emily Heller or Dave Heiss.
Become a Certified Personal Trainer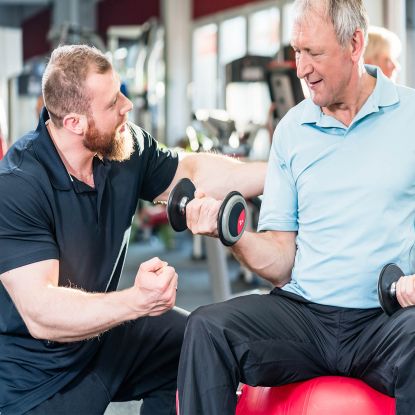 This comprehensive course offered through World Instructor Training Schools (W.I.T.S.) gives you the knowledge and skills required for a long-lasting career in the fitness industry. W.I.T.S. is an accredited and internationally recognized certifying body that is known and respected by fitness experts and employers. Textbook required. 
In-Person and Online Hybrid class options
$689 (includes voucher for National Certification Test on November 16)