Seeing the world through the camera's lens
Technology has made it easy for anyone to take a picture—but not everyone can be a photographer.
Photography is an exciting medium that marries expression and aesthetics with evolving technology. Our Photography specialization encourages you to develop creativity while mastering technique, giving you the skills and vision to focus on the areas that interest you most: fine art, studio portraits, event photography, corporate communications, fashion, product—or wherever your lens takes you.
Photography Facilities
Traditional Darkroom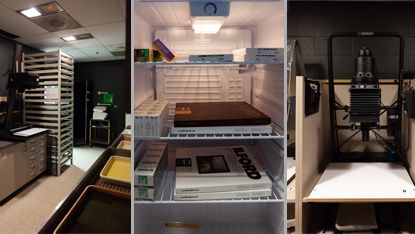 Our traditional lab consists of a film loading room, film processing area and one large open darkroom with 12 Bessler enlargers which students are able to print 35mm - 4x5 negatives. We also have a small darkroom used for advanced students. In the classroom students have access to mounting equipment, mat cutting, and editing tools, as well as a large vent hood for toning or using spray adhesive. Traditional film cameras (35mm to 4x5 film formats) are also available to check out for FREE on a week to week basis.
Digital Photography Lab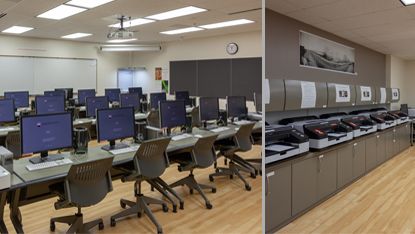 The digital lab consists of 24 MacPro work stations and 5 Macbook Pros which are all equipped with the latest Adobe CC software. Also available in the lab is a Imacon large format scanner, 5 Epson 17" wide, 4900 large format printers, and a Epson 4880 Piezio (B&W) printer. The students have the tools to make and use custom paper profiles, and are able to check out a variety of digital cameras and lenses for FREE on a weekly basis. Students can also print their work on a large scale using one of two Epson 44" wide printers, an Epson 9800 or an Epson P10000 for a small fee.
Photographic Lighting Studio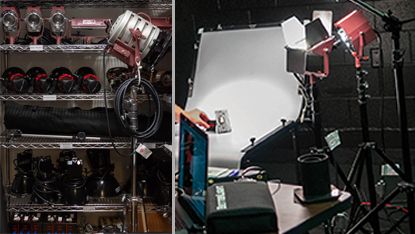 The lighting studio consists of a single open area, with the equipment room inside containing a multitude of grip equipment (stands, light modifiers, light meters, etc.). For lighting, students use Speedotron, Mole-Richardson, Travelights, and Smith-Victor lighting equipment. We also have location kits (strobes, LEDs, and tungsten lights) that students can check out on a weekly basis for FREE.
Meet Our Instructors and Staff
Student News
Congratulations to the photography students that made it to the final round of SKYWAY: Nick Cipra (2), Alexis Howard and Nation Henrikson.  The juried exhibition runs from March 25 to April 17 at the Robert F. DeCaprio Art Gallery at Moraine Valley Community College, Building F. The Reception is March 30, 1-3 p.m. with awards presented at 2 p.m.
Thank you to Daniel Hojnacki for being our guest lecturer on March 12!  We look forward to seeing more of your fabulous work in the future.  If you would like to see his work, take a look at his website: danielhojnacki.com
Former Student Alex Dale has her work "See You At The Show" displayed at the Aurora Downtown Campus Café from March 23 through June 8 with a reception on Friday, May 3, from 6-8:30 p.m. For more exhibitions check out our Art Department's Exhibition page.
As always if you would like to see what our photography department instructors are working on or involved with, take a look at their profiles above.