According to a report from the Wisconsin Hope Lab in April 2018, 46 percent of students at community colleges are affected by housing insecurity and 12 percent identify as being homeless. Initial studies indicate that insecurity affecting a student's basic needs also affects their likelihood of completion. Waubonsee Community College alumna, Moji Ayorinde, persevered to ensure that she and her children would not become defeated by this statistic. In acknowledgment of her success, Ayorinde was recognized by the Waubonsee Community College Board of Trustees as a Student Success: Featured Alumnus at their June 20 meeting.
Ayorinde became a U.S. citizen in 2011 after immigrating here from Nigeria in 1996. In June 2012, after a series of unfortunate life events, she and three of her children moved into the Transitional Living Community at Hesed House, a shelter for homeless people in Aurora. She lived there with her family for 19 months. 
Despite this (or because of it), she worked hard--very hard--to change her life's circumstances. In early 2014, Ayorinde was able to get her own housing and she began taking GED classes at Waubonsee Community College.
"I did not have a clue of what a math class was about because I didn't know anything but basic addition, subtraction, multiplication and division," said Ayorinde about her time before starting the Adult Basic Education classes. Despite this, she passed the GED math exam on March 31, 2014.
Though this was a significant accomplishment for Ayorinde, given her circumstances, she was not finished. She told her advisor that she was interested in nursing. The advisor helped Ayorinde set a class schedule for the summer of 2014. Even with the help of an advisor, there were some bumps in the road, but none that moved her away from her dream.
"She [the advisor] warned me about taking too many classes in the summer, especially with subjects like A&P [Anatomy and Physiology]. I didn't listen. I dropped that class on the second meeting. I went back to my advisor to regroup. She did not give up on me but readjusted my schedule."
With that adjustment, Ayorinde was back on track towards her nursing degree. In fact, she was so firmly on track that people around her had no idea about her backstory.
Tracy Limbrunner, Assistant Professor of Nursing and one of Ayorinde's instructors in her first semester in the Nursing Program in the spring 2016 semester, remembers Ayorinde discussing ways to help Hesed House. It was not a discussion of her past there, but a discussion of how to give something back to the place that helped her get back on her feet.
"I remember her working really hard. She really accepted all of the academic help and resources available," said Limbrunner.
Other faculty members in the Waubonsee Nursing Program recognized her work and accomplishments, too.
"Moji worked extremely hard in nursing school. It was not always an easy time, but she used her resources, both in the classroom and clinical, to be prepared for class. It is a great story of perseverance and overcoming obstacles," said Marjie Schoolfield, Assistant Professor of Nursing and Associate Degree Nursing Program Director at Waubonsee and one of Ayorinde's instructors.
Ayorinde earned an Associate in Science degree in August 2017 and an Associate in Applied Science Nursing degree in December 2017 and she has recently passed the National Council Licensure Examination. She now works as a nurse at the Joliet Treatment Center. She will also begin classwork for her bachelor's degree at Northern Illinois University this summer.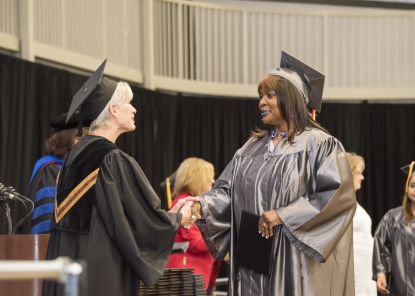 Ayorinde took the difficult circumstances in her life and has made something remarkable out of them. She wants her four children to see her as strong and to have better opportunities. All four of them have now gone to college; two have earned master's degrees and two are working towards bachelor's degrees. Two of them received college athletic scholarships.
"I'm a person of faith. I prayed to God to give me one more chance," she said.
Ayorinde has a favorite passage of scripture that she has relied on throughout this entire journey. It is John 12:24: "Very truly I tell you, unless a kernel of wheat falls to the ground and dies, it remains only a seed. But if it dies, it produces many seeds." She believes that going through these struggles was part of a larger purpose for her life. And, the seeds produced from her struggle will continue to grow.
Though her attendance at Waubonsee is only a part of her ongoing story, she credits her time at the college as significant for her.
"Without Waubonsee's Adult Basic Education Program, I would still be dreaming or probably be in the wrong profession because I was confused with what to do and where to start. I am so grateful to the department for the resources they made available to me in those days."
Visit www.waubonsee.edu/nursing for more information about Waubonsee's Nursing Program.