When Cynthia Garcia of Oswego graduated from high school, she wasn't thinking about going to college. As a home-schooled student—and with no one in her family before her having attended college—it was not at the top of her mind.
However, she saw an announcement about Waubonsee's Dunham Fund QuickPath Degree Program and was intrigued. She looked into it, applied, was accepted and is now the first person in her family to graduate from college; and she did so with a 4.0 GPA.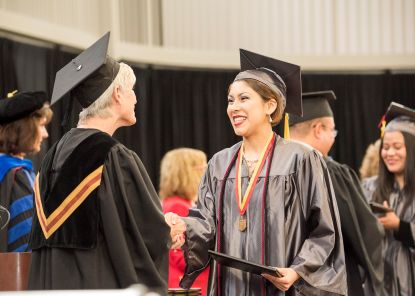 Though going to college was not part of her plan when she graduated from high school, she knows she made the right choice to attend Waubonsee.
"I like the feel of it [Waubonsee]. It's welcoming. It was a good transition for me," said Garcia.
Students in the Dunham Fund QuickPath Program are part of a cohort that advances through the program together. For Garcia, that was a key feature.
"The cohort was really good. We all helped each other out," she added.
Garcia had not decided on exactly what she wanted to study when she started the program, but that was not a problem for her. She appreciated the fact that the coursework allows students to develop their interests and abilities as they go through the program.
Garcia most enjoyed her accounting classes and decided that she wanted to focus on that when she transferred to a four-year university. Through her hard work and performance in the program, she was awarded the American Institute of CPA's Foundation Two-Year Transfer Scholarship for $5,000; one of just 25 awarded across the country each year. Garcia will transfer to Northern Illinois University in the fall to study accounting.
Garcia recommends that people start their college studies at a community college.
"I think it's a smart way to go. It's a really good transition."
She says similar things about the Dunham Fund QuickPath Program.
"It's intense but do-able. Sean [Warren-Crouch, the program manager] is a great help. You have everything you need to succeed."
The Dunham Fund QuickPath Program is one of several ways to earn college credit quickly. Waubonsee offers eight- and twelve- week courses throughout the year and courses as short as three weeks in the summer. There are also online and hybrid classes available. Visit www.waubonsee.edu/accelerated to learn more about these options.