20 Minutes = Ready to Register

Your next step to enrolling at Waubonsee is completing the Pre-Registration Review. It takes about 20 minutes and covers:
Basic Program Requirements (Degrees/Certificates)
The College Catalog, Programs of Study and Educational Plans
Assessment Levels and Course Placements
Support Services
The Credit Course Schedule and Course Selection
Once you're done, you'll be ready to register for courses – on your own or with the help of an Admissions Advisor.
Take Your Next Step

Access Pre-Registration Review in mywcc*
*Requires X-number and password
Note that your X-number is your student ID #, issued to you via email once you complete a New Student Application. Your password is initially set as your birthday in MMDDYY format.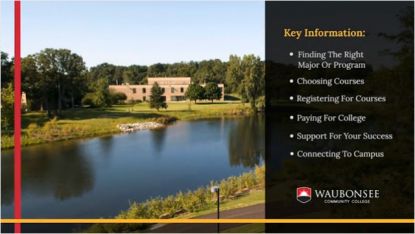 The sooner you finish, the sooner you can register — increasing your chances of getting the courses you want and giving you smaller payments over a longer period of time if you select our payment plan.