The first time Waubonsee student, Jeremy Sullivan, laid eyes on a drag racing car was at an "In the Pits" race with his grandfather. Five-year-old Sullivan watched in awe with earplugs and headphones on as Top Fuel drag racing cars zipped by at 300 miles per hour (mph) in three seconds. These are the kind of cars that have to get rebuilt afterward; they run so fast. "As soon as that green light hit, I literally levitated off that seat. The ground shook. Everything was so loud. That was my first time seeing that," said Sullivan.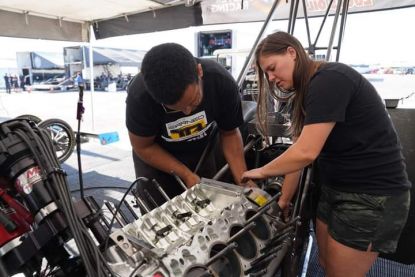 Working on cars was not something new for the very young car enthusiast. At just three years old, Sullivan still remembers his mother setting him down on the garage floor to crawl towards "papa," his grandfather, who worked below the undercarriage of an old 1939 Plymouth. Since then, Sullivan grew up making automotive repairs with his grandfather in their garage.
"My grandfather was the fatherly influence on me and he always worked on cars," Sullivan said. He became inspired when he heard stories of when his grandfather drag raced locally. "I always told myself that I don't know how or when it's going to happen, but I'm going to race in my future, whether it's with Nascar, Indy, National Hot Rod Association (NHRA), anything along those lines."
After graduating from West Aurora High School, Sullivan decided to pursue a career in the automotive industry at Waubonsee Community College in the Fall of 2019. "When I joined Waubonsee, I was scared. At the time, I was so set on going into the military, but luckily, I have great instructors and best friends to lean on here."
One day in class, Guy Tiberio, Associate Professor of Automotive Technology, made an announcement about a new "Respect is Learned In the Pits" internship opportunity to work alongside the Randy Meyer Racing (RMR) team at the NHRA U.S. Nationals in Indianapolis.
Sullivan didn't think he would win, but everything changed when he received a call from a representative from "In the Pits," informing him he was selected as a semi-final contestant. "My heart dropped," said Sullivan. "I submitted a video on how I got into cars and why I wanted to be a part of the internship."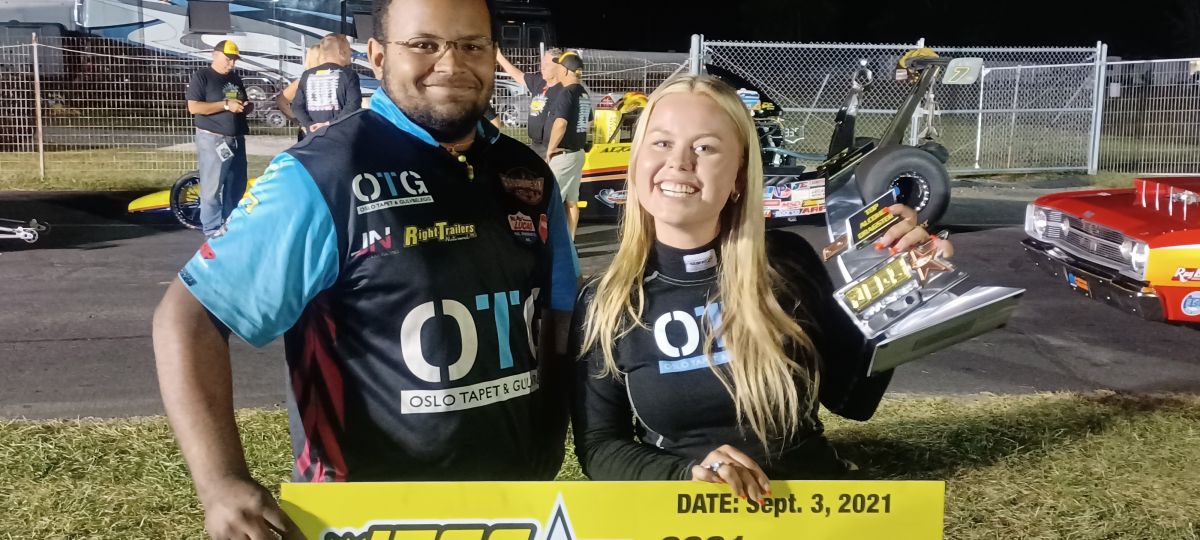 A week later, Sullivan received a second call confirming he had won. "Getting the opportunity to go and work on a car that goes over 300 mph in three seconds is a dream from God."
If it had not been for the encouragement he received from Tiberio in his automotive class at Waubonsee, he would have never been given this opportunity. "I can't thank him enough," Sullivan said. "This will be a bookmark in my life forever."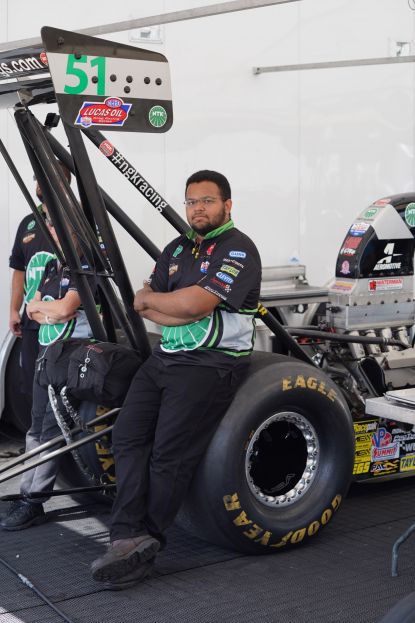 At the NHRA U.S. Nationals in Indianapolis, Sullivan found a renewed purpose and plan for his life. "I learned that you can never tell what is going to happen. You can go from having the worst day of your life to the best day in a matter of seconds." While there, Sullivan gained hands-on experience behind the scenes at one of the largest drag racing events globally, a feat few young technicians can tout. During the Labor Day race weekend event, Sullivan gained invaluable experience and worked with RMR drivers Rachel Meyer and Julie Nataas.
Until Sullivan finds himself back at a racetrack as a motorsport professional, he is thankful for the community he has gained at Waubonsee. "Waubonsee has taught me so much more than just the automotive world. I've learned what it means to have a community feeling, how to treat people well, and how to extend the same friendly welcome that I have received at Waubonsee to everyone I meet."
Waubonsee Community College's Automotive Technology Program is Automotive Service Excellence (ASE) Master certified and an ASE Education Foundation accredited program. The Automotive Technology Program provides students with a strong mechanical aptitude, a sound understanding of automotive electronics, and computer controls to accurately diagnose and repair the most hard-to-find problems. Upon graduation, students will have developed high-demand skills and networked with industry partners. Visit www.waubonsee.edu/programs to learn more.