According to the U.S. Department of Agriculture, food insecurity is defined as, "a household-level economic and social condition of limited or uncertain access to adequate food." Research indicates that about half of all college students grapple with food insecurity. The numbers are worse at community colleges where two-thirds of students do not have access to adequate food. More than half of all college students are "independent," meaning that they meet at least one of the criteria as presented in the Free Application for Federal Student Aid (FAFSA).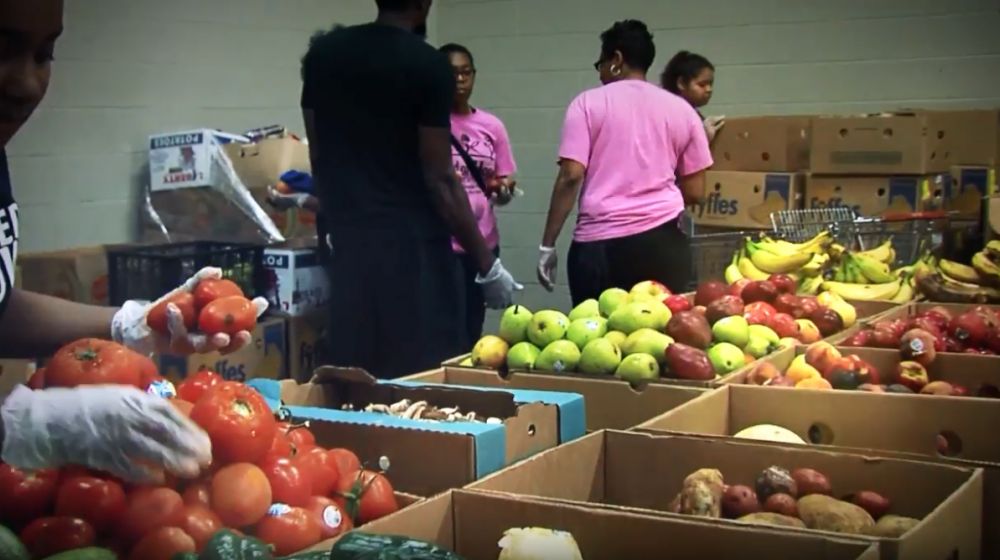 Many students are balancing the academic rigors of college with the physical, emotional and psychological challenges of being hungry. Waubonsee Community College and the Aurora Area Interfaith Food Pantry (Aurora Food Pantry) have many partnerships to help these students. These partnerships, and the Aurora Food Pantry, were recognized as one of our Institutional Stories.
The connections between the college and food pantry take many forms and are mutually beneficial.
For example, Waubonsee's Student Life and the college's Ceramics Club recently held the "Empty Bowls" project, a program featuring hand-made ceramic bowls which are sold, with all proceeds going to the food pantry. Also, the college and the Aurora Food Pantry worked together to bring a mobile food pantry to the college's Sugar Grove Campus for anyone to come get both perishable and non-perishable food items. The Aurora Food Pantry also provides the office of the Assistant Vice President for Student Services with prepared lunch sacks made with non-perishable food items. Those sacks are available to any student in need.
"One of the greatest things about working with Waubonsee is the visibility it gives us to build trust and make the situation less embarrassing. Students were shy at first but grew to it. They were surprised at the quality of food available [at the mobile pantry]," said Brisa Barraza, the director of operations at the Aurora Food Pantry.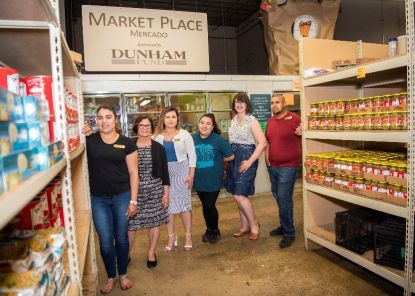 While the Aurora Food Pantry provides necessary food to students, students provide necessary support to the pantry. Each year the Aurora Food Pantry recruits at the college's volunteer fair and each year the students respond. The pantry usually gets 5-8 student volunteers each semester. This incredible service and the many other volunteers are what make the service of the Aurora Food Pantry possible.
Because of the volunteer force, the Aurora Food Pantry is able to provide $7 of benefit for $1 of cost. This allowed the pantry to serve more than 19,000 people in 2017.
"This is an issue that affects all of us. The more students know about food insecurity, the more we can begin to address the larger concerns and support student success. Providing opportunities for students to receive the food they need to be successful and inviting Aurora Food Pantry to engage with students are just two examples of how offices can begin to address this use. The students today are future leaders tomorrow who will be responsible for solving complex issues. What better way to start the conversation than through a partnership such as this. We are very grateful for Aurora Food Pantry and their willingness to be on this journey with us," said Dr. Mary Tosch, Student Life Manager at Waubonsee.
According to Marilyn Weisner, the executive director of the Aurora Food Pantry, students who have inadequate nutritious foods get sick more often, for longer periods of time, and experience more anxiety. This makes them unable to perform well in school and reach their goals.
"The food pantry exists for the community. We want to help everyone. You have to have food to be alive and do things, to include earning a degree. We are here to ensure everyone has access to food," said Weisner.
"Being a member of the Advisory Board at the Aurora Food Pantry has been so important to me. It has enabled Waubonsee to work closely with the Aurora Food Pantry to ensure that we connect students to the resources they need to be successful," said Dr. Melinda Tejada, Vice President of Student Development at Waubonsee.
The number of college students with insufficient access to adequate food is startling and will not change unless more people pitch in to help and form partnerships. The partnership between Waubonsee and the Aurora Food Pantry is impactful because it brings together needs and resources.
"We are grateful that Waubonsee reached out to us about the issue of student hunger," said Weisner.
Visit www.waubonsee.edu/civic-engagement to learn more about the many civic engagement opportunities at Waubonsee Community College.