Waubonsee Community College announced its 2018 Distinguished Contributor and Distinguished Alumnus at the college's annual commencement ceremonies on Saturday. Jerome A. Rich, Chairman of the Board of Rich Harvest Farms, is this year's Distinguished Contributor. Ashley Lewis, singer, songwriter and performer, is this year's Distinguished Alumnus.
Rich was selected as this year's Distinguished Contributor for his exemplary service and support to Waubonsee. His relationship with the college began in 2012 with a discussion to explore partnerships related to Waubonsee's automotive programs and his historic car collection. Since then, he and Rich Harvest Farms have hosted biology classes conducting research on the grounds and student interns from the Automotive Technology Program. Rich has also hired several Waubonsee graduates. Rich and Waubonsee are now exploring partnerships related to the college's Therapeutic Riding Instruction courses and an equine therapy program housed at Rich Harvest Farms. Rich was elected to the college's Foundation Board in December 2015. In 2017, he donated the use of his golf course for the college foundation's annual golf outing. This donation led to the Foundation raising more than $143,000 during that event; the largest amount in college history. Rich has made the golf course available again for the 2018 golf outing. He also donated $11,000 in matching funds to the college for the 2017 NCAA golf tournament initiative.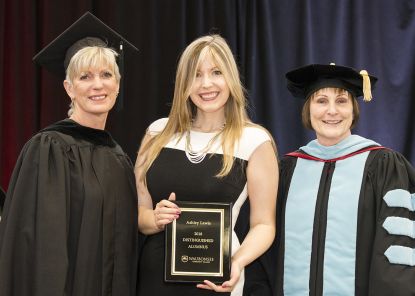 Lewis was selected as this year's Distinguished Alumnus for her remarkable professional accomplishments. She earned an Associate of Fine Arts, Music Performance from Waubonsee in 2009. Since then she has traveled around the world with her band, Legacy. With her musical roots in bluegrass, she has branched into other genres of music and been an innovator in new styles of music. Her most recent album, Captivated, features twelve songs that she wrote, as well as partnerships with other artists, such as Vince Gill. Lewis is a 7-time award recipient of the Illinois Arts Council for mandolin and has been recognized by the Council as an accredited Illinois Artstour Agency musician who is preserving the heritage and art of Americana music. In 2007, Lewis was recognized as one of Waubonsee's "Fab 40" graduates as part of the college's 40th anniversary. 
The Distinguished Contributor Award is presented each year to an individual, a group of individuals, or organizations who have made an outstanding contribution or given exemplary support to Waubonsee Community College. Those nominated have supported the operations of the college in either a personal or professional capacity and have contributed to the growth and expansion of the college's mission.  Nominees for the award are recognized by the college staff, community residents and officials, or college leaders as having made an extraordinary commitment to promoting the college and its mission. 
The Distinguished Alumnus Award is presented each year to an outstanding graduate of Waubonsee Community College. Awardees have distinguished themselves in their chosen profession, have documented evidence of contribution and service to their community, and demonstrated a continued interest in lifelong education.