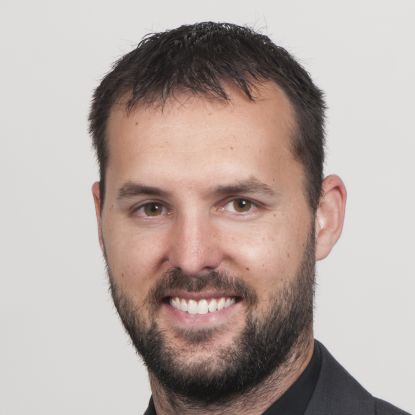 About Me
My name is Justin Hoshaw and I will be your instructor for Microbiology 250.  I earned my undergraduate degree at the University of Wisconsin - Madison where I worked in several different labs gaining valuable experience and many different laboratory skills.  I majored in biology, genetics, and agricultural journalism.  I then went on to pursue graduate work at the University of Minnesota - Twin Cities where I earned my Masters of Science in molecular, cellular, developmental biology, and genetics.  After graduating, I went to work at Chromatin, Inc. in Chicago where I researched crop genetics for many different species.  My passion for science and teaching has brought me to Waubonsee Community College, where I hope to use my knowledge and experience to give students the same appreciation and fascination with science that I have.  I thoroughly enjoy teaching this class because it allows me to share not only my passion for biology and sustainability, but also my knowledge of a variety of useful laboratory techniques.
To be successful in this course, I expect students to have read the assigned material before coming to class and be ready to participate in classroom discussions.  My goal for this class is that everyone leaves with the ability to comfortably discuss biology topics covered in this class with others.  I want to emphasize the major concepts in this course, but there will still be smaller pieces of information that you will be responsible for understanding.
I look forward to having a fun and interactive discussion during class.  I fully believe that the more you contribute the more you will walk away with, so please ask your questions, and if you have a relevant story or information I'd appreciate you sharing it! 
Education
M.S.: University of Minnesota - Twin Cities
     Molecular, Cellular, Developmental Biology, and Genetics
B.S.: University of Wisconsin - Madison
     Biology, Genetics, and Agricultural Journalism
Courses I Teach
BIO 120: Principles of Biology I
Course Description: This course includes an introduction to science, general chemistry, organic chemistry, cells structures and their functions, cellular activities (photosynthesis, respiration, and reproduction), classical and molecular genetics, and evolution. Selected topics discussed in lecture are expanded upon and explored in the laboratory. Emphasis in the laboratory is on cellular functions and processes. NOTE: This course is the first semester of a two-semester sequence of biology majors lecture and lab. This course is designed for Biology majors and/or students who will be pursuing health-related careers such as medicine, nursing, veterinary, dentistry, pharmacy, etc. Some physical education majors may need to take this course. If you will be transferring, it is strongly recommended that you take Principles of Biology II (BIO122) at Waubonsee to ensure that your biology credits will be accepted by your transferring school.
Why I love this course:  This course is awesome to teach because we cover material that is crucial for having a good understanding of a number of important science and biology topics that are relevant to your life.  The course focuses on understanding cell biology and it's impressive how an understanding in this area of biology can lead to a better understanding of evolution, energy, cancer, metabolism, photosynthesis, and biotechnology.
BIO 250: Microbiology
Course Description: This course focuses on the biology of microorganisms including their morphology, genetics, metabolism, evolution and ecology. Human-microbe interactions in health and disease are emphasized. Scientific methodologies and current issues in microbiology are addressed. Students develop laboratory skills for safe handling, isolation, observation, and identification of microorganisms. Although there is no prerequisite for this course, at the 200-level, this is a rigorous and fast-paced class. This course is a requirement for admission to WCC's Nursing Program as well as many transfer health professions programs. Microbiology is a recommended major elective for pre-med, pre-dent, pre-vet, and pre-pharmacy as well as biology majors, but you should check with your transfer school to be sure it will be accepted. If you are not entering a science or health-professions major, you should not be in this class.
Why I love this course:  This course is terrific because we build an amazing foundation for students to continue to build off of whether they are going into a health profession or research area.  The course focuses on the information that will be relevant in your future education and career goals while also covering a number of topics that are great to understand in today's world.  Some of the topics that we cover are antibiotic resistance, vaccines, pathology, immune system function, allergies, common diseases and disease treatments, and the importance of the human microbiome.
Teaching Philosophy
I set up and run my course in a way to help you optimize your time.  Based on brain research and test scores, you will be responsible for reading the chapter and completing the homework before coming to class.  Once in class we can discuss the chapter in more depth and review what I expect you to know for the exam.  After class, I expect you to study the material again before completing an online quiz.  Based on how you perform on that quiz, you may want to go back and study some more.  This is how you should be studying for all of your classes.  You will remember the material better and have a more in-depth understanding if you do this.  I try to encourage you to work smarter, not harder or more, but keep in mind that my courses do require a lot of reading and studying because these are complicated aspects of biology that you are not familiar with.  Although I avoid having you memorize material as much as possible, I do expect that you have a good understanding of the material and can make connections and that takes time and practice.  Don't forget, I'm here to help answer questions and clarify anything that you are struggling with.  I want you to succeed and will do everything I can to help you!
Resources
I have collected a number of resources over the years.  I am happy to share those resources with you.  My resources focus on study tips, practice questions, differences between high school and college, differences between high school and college exam questions, public speaking tips, test anxiety tips, and how to reference resources.  Since websites are always evolving and moving, please email me with any requests.
Office Hours
Monday:  2:00 pm to 2:30 pm
Tuesday:  2:00 pm to 2:30 pm
Wednesday:  2:00 pm to 2:30 pm
Thursday:  2:00 pm to 2:30 pm
I am on campus and available much more than this, but these times are consistently when I should be around.  Since I do often meet with students, faculty, and other campus groups I highly recommend to email me in order to set up a time if you are interested in stopping by.
The views and opinions expressed on this page are those of the employee and not necessarily those of Waubonsee Community College, its Trustees, or its administration.