Free Enrichment Events
Join us from the comfort of your own home at these complimentary virtual events, brought to you by Waubonsee's Community Education Department! Please fill out the RSVP form below indicating the events you are interested in. 
If the event is not live, participants will be emailed a link to access the webinar. Please be patient as we do check the participation list weekly. If the event is LIVE, please sign up by 4pm the day prior to the event.
Live events are recorded for later viewing.
Why do We Feel Uneasy About the New Normal?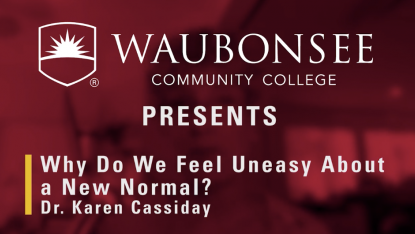 September 1 – 30, 2020
Are you puzzled by how trying to get back to normal after the covid quarantine seems to be much more difficult that you imagined? Do you feel reluctant to just go back to work, hang out in the park or visit with your friends that you missed so much when you were in full quarantine? You are not alone! Many people are discovering that post-quarantine new normal is anxiety provoking and stressful. Anxiety disorders expert, Dr. Karen Cassiday, will help you understand why the new normal feels so uncomfortable and what you can do to create more ease and peace of mind in these challenging times.
Presenter: Dr. Karen Cassiday - Anxiety Center of Greater Chicagoland
Dr. Karen Cassiday is a lively, sought-after speaker and commentator on national media such as Nightline, The Today Show, Animal Planet, The Joy Behar Show, Huffington Post, public radio and many more. She served as the President of the Anxiety and Depression Association of America and is the founder of the Anxiety Treatment Center of Greater Chicago, the longest-running clinic to first use modern exposure-based treatment for anxiety disorders in the Chicago region.