Waubonsee Community College alumnus Javier Galvez never imagined he'd return to Waubonsee's Sugar Grove Campus with so much influence just three years after graduating. As Toyota's Field Technical Specialist for Central and Southern Illinois and Northwestern Indiana, Galvez ignites futures for students enrolled in Waubonsee's Automotive Technology Program as an employer partner. 
"Waubonsee has created a heavy name that carries a lot of weight in the automobile industry," said Galvez. "So much so that my bosses see how I am, and I get to show my company how Waubonsee breeds students like me. The best part of my job is that I get to offer students an opportunity to work in the field," said Galvez.  
After graduating from Waubonsee in 2020, Galvez transferred to Southern Illinois University (SIU) to earn a bachelor's degree in automotive technology. After that experience, Galvez was offered a job at Toyota and promoted to a role in the Chicago Regional Office.  
In this role, Galvez is actively engaged as a member of Waubonsee's Automotive Technology Employer Advisory Board. His efforts of introducing Toyota's training program to Waubonsee's Automotive Technology students are reaping significant benefits for hundreds of aspiring technicians. 
Ten Waubonsee students recently completed the Toyota certification program. These students were recognized for completing several eLearning modules that now qualify them to become a Lexus Certified technician or Toyota Maintenance level Certified Technician. 
More than one hundred Waubonsee automotive students currently take part in the Toyota training program. On his recent visit to campus, Galvez explained to the students that the added training is an important credential that helps the students stand out when job interviewing. 
"It feels awesome to come back to Waubonsee and work with the amazing instructors to create training opportunities that lead to high-paying careers for the students," added Galvez.
Because of the training program's success, Toyota recently donated two differentials, and five engines for Waubonsee students to gain additional hands-on experience.
"As the relationship grows with Waubonsee, we'll keep giving back," said Galvez.  
Waubonsee is giving prospective automotive students a stage to declare their major in an exciting way. Each year, area high school students declare their intent to enroll in a Career and Technical Education (CTE) program at Waubonsee by signing a letter of intent at the college's Signing Day.
"The annual event allows students to experience the program, develop a connection with faculty directly, and meet employers who hire Waubonsee automotive graduates," said Jim Armitage, Automotive Technology Emeritus Professor. 
Over 460 high school students recently attended Waubonsee's Automotive Signing Day and Open House. Among those, more than 50 high school seniors signed letters of intent to pursue their career dreams in the following programs: Automotive Technology, Auto Body Repair, CAD/Engineering, Cybersecurity, HVAC, Machine Tool Technology, and Welding. 
Peyton Mongiovi, of Yorkville, signed her letter of intent and said, "I am the first person in my family to pursue college and enter the automotive field. I'm very excited and looking forward to starting my career. I found a passion for working with my hands. I was very intrigued by Waubonsee's Automotive Program."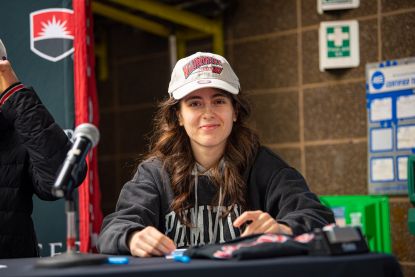 What started 25 years ago as an attempt to invite local juniors and senior high school students to be introduced to Waubonsee's Automotive Technology Program has become a large event that local high schools look forward to attending each year.   
"We invite all seven high schools and career centers in our district that have feeder programs in automotive technology or CTE careers," said Guy Tiberio, Associate Professor of Automotive Technology. 
"We are the only school that welcomes and commits students to do this. Because there are such limited openings, we wanted to ensure the most serious students get priority." By attending the signing ceremony, students get access to online training and priority access to register for classes. 
Waubonsee partners with many automotive manufacturers to offer students competitive certificate training programs and exposure to internship programs.  
"As an employer, you're getting the best of students, those who have the foundation in fixing cars, networking with professionals in the industry, and spring boarding off of that; it's a win-win situation for the employer, the student, and Waubonsee," said Regan Boll, Toyota's Field Tech Specialist of Chicago.  
Yorkville High School student Miguel Cruz heard positive reviews about Waubonsee's Automotive Program from several sources and decided to join the Signing Day after meeting one of the faculty members. "I am already planning to transfer to SIU after I finish my automotive technology degree at Waubonsee." 
To learn more about Waubonsee's Automotive Technology Program, visit waubonsee.edu/automotive.
Pictured above (from left to right): Bernard Thompson, Service Manager Toyota of Naperville; Regan Boll, Field Tech Specialist of Toyota Chicago; Javier Galvez, Field Tech Specialist of Toyota Chicago