Students at community colleges bring remarkably diverse backgrounds and experiences to the classrooms they sit in. Danny Peña, a student at Waubonsee Community College, is the perfect example of this. Peña was recently named California Pizza Kitchen's top pizza chef in America.
Each year the California Pizza Kitchen chain holds a competition to select the best pizza chef from all of its stores across the country. Peña, who has worked at the restaurant in Geneva for four years, competed against more than 200 other pizza chefs for the title. The company flew him to California as one of four finalists in the competition. The store in Geneva held a celebration for him during the lunch hour on April 9.
"His passion, his willingness to work at his craft to get better has gotten him to where he is today," said Randy Kriss, the California Pizza Kitchen Regional Partner for the Chicago market, at the celebration event.
In addition to the celebration with his co-workers and senior leaders from the corporation, Peña was presented with a $25,000 check. Also, a pizza that he created will be featured at all California Pizza Kitchen locations across the country starting in September.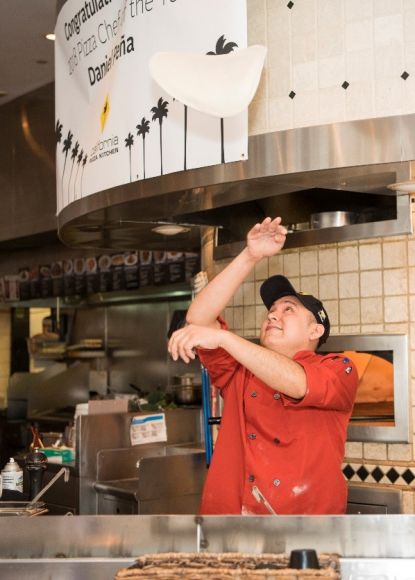 Peña is an English as a Second Language (ESL) student at Waubonsee. His commitment to excellence is as apparent in his studies as it is his pizza making.
"Danny persists in bettering his English skills. He diligently learns for learning's sake and not to just get through the program," said Lisa Hawks, one of Peña's instructors at Waubonsee.
In addition to his commitment to personal improvement in the classroom, he works to help others, too.
"Danny is a leader in the class. He provides assistance to those students who are struggling and serves as an example of what can be done when one persists," added Hawks.
Peña's skills and work ethic are not limited to the classroom; they were highlighted at the celebration at the Geneva restaurant. His supervisors recognized those things and made sure Peña's co-workers recognized and appreciated what he brings to the table.
"You guys [Peña's co-workers] are better off for having worked with him," said Kriss.
As for Peña, he is looking for even greater things.
"This is the beginning," he told the lunch crowd.