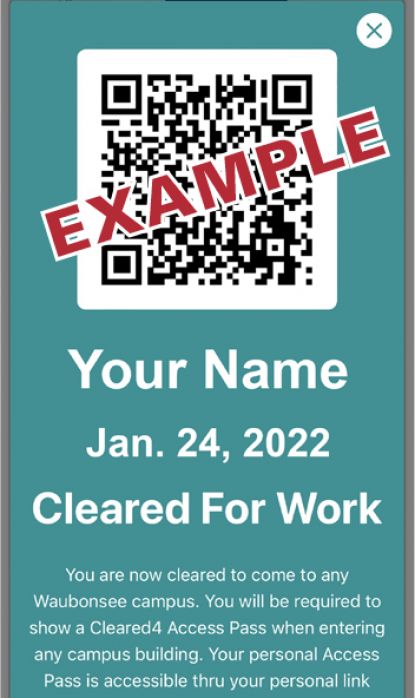 Waubonsee has partnered with health verification system, Cleared4, to verify the health of those coming to campus and ensure compliance with Governor Pritzker's vaccine and testing mandate.
Beginning January 5, students and employees will be required to show a Cleared4 Access Pass when entering any campus building. Each building will have a designated single-entry point and a Cleared4 Campus Ambassador who will scan and verify your Access Pass from a smartphone or tablet device.
View a list of these access doors on all four campuses.
What is a Cleared4 Access Pass?
The Cleared4 Access Pass demonstrates that an individual is either fully vaccinated or has complied with the requirement for weekly COVID-19 testing. If you are a Waubonsee employee, student, or other individual regularly on campus, you will need an Access Pass in order to enter campus buildings.
Cleared4 does not have an app but you can save it as a bookmark on your phone, providing easier access to your pass. No username or password is required. Your link will never change and is personal to you and should not be shared with anyone. You can expect to receive your Cleared4 link via email later today. Please watch for an email coming from no-reply@cleared4work.com.
How Do I Bookmark Cleared4 on my Phone? 
iPhone Users:
Click on your personal link. Safari will open.
Click the "Share" icon at the bottom of the page. 
Decide where you would like to save your link. (We recommend that you select "Add to home screen.")
Android Users:
Click on your personal link. Chrome will open. 
Click the three dots on the upper right corner of the screen.
Select add to home screen or bookmark as you prefer.
---
We understand that you may have many questions about this new requirement on campus. We will continue to provide you with detailed information.
If you have immediate questions, please read our Frequently Asked Questions or submit your question via our online form.