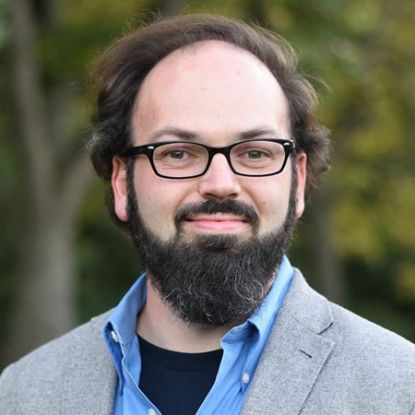 About Aaron
Aaron Lawler was born in Illinois in 1980, and educated at North Central College (Naperville, IL) in both the arts and the humanities. He went on to earn advanced degrees at North Central and at Concordia University (River Forest, IL).

He is a professor of humanities at Waubonsee Community College (Sugar Grove, IL) and has published a number of peer-reviewed and academic articles. He has a passion for education, and believes that the humanities are the soul of society, being a staunch advocate of the arts. He is a classically trained painter and a writer (claiming that he is not an author, for he merely internalizes the great works of fiction and drama, cross-pollinating and intermingling in ways that make him smile). He enjoys what he does, but enjoys his life as an educator and family-man even more.

His mother taught him to tell stories, his father taught him to challenge everything, and his wife taught him to take a chance even when it seemed foolish to do so. He loves to adventure in foreign lands by traveling or by reading (either suits him!). He is a lifetime member of the National Geographic Society and the Field Museum; and fancies himself an anthropologist, although he hates digging and dirt.

He is madly in love with his wife, his two kids and his dog. And always will be.
Aaron's Education
BA - Arts and Education, North Central College - Naperville, IL
Double Major: Illustration and K-12 Education

MA - Liberals Studies, North Central College - Naperville, IL
Focus: Interdisciplinary Humanities
MEd - Curriculum and Instruction, Concordia University - River Forest, IL
Focus: eLearning and Technology

PhD Candidate - Educational Philosophy, Concordia University - River Forest, IL
Focus: American Intellectualism
Courses Aaron Teaches
HUM 101: Survey of the Arts
What are the arts? This course introduces students to the arts by responding to and evaluating: drawing, painting, photography, sculpture, architecture, music, literature, theatre, cinema, and dance. There is a focus on Western arts through both experiential learning (activities) and appreciation (study and critique). In order to truly gain an understanding of the arts, students both analyze and create.
HUM 102: Global Village
How do different groups of people see the world? Students compare and contrast different worldviews to the West. By examining and exploring cultures from Australia, the Americas, Africa, Southeast Asia, China, India, and Oceania. There is a focus on the historical, cultural, philosophical and religions traditions of each group. Students view the world as a single community linked through globalism.
HUM 201: Modern Culture & the Arts
Why was the 20th century so remarkable? We examine the Premodern, Modern and Postmodern eras through text (primary sources), context (historical and cultural backgrounds) and subtext (implied meanings). Our goal? To discover how a period of history went from horses to rocket ships and the internet, and how people dealt with the most rapid changes in human history.
HUM 202: Current Trends in Digital Humanities
**BRAND NEW COURSE** The Digital Humanities is culture meets technology, by way of new media. It's sort of like pretending we are future archaeologists discovering the media created today and then using those "artifacts" to piece together the history of the early twenty first century. What does a meme teach us? What does a YouTube channel say about our society? How can we understand the psychology of our culture by looking at the video games we play? What is the artistic quality of a "selfie"? What is the philosophical or ethical underpinnings of virtual and augmented reality? How are emojis our hieroglyphics? What are our beliefs, values, and attitudes as expressed through Snapchat?
Clubs and Organizations Aaron Advises
Students for a Diverse Society
We believe that a school must make a major commitment to diversity and has a duty to promote diversity in ways that are authentic, and those ways must be perceived, as such by the student body. Students for a Diverse Society is a place for students to share and experience cultures from around the world through food, stories, customs, and traditions. We hold multicultural celebrations and hope to help increase students' cultural capital.
Phi Theta Kappa
Phi Theta Kappa Honor Society, also ΦΘΚ or sometimes PTK, is the international honor society of two-year colleges and academic programs, specifically community colleges. Phi Theta Kappa is the world's largest and most prestigious honor society for two-year college students.
Alpha Sigma Lambda
Alpha Sigma Lambda, also AΣΛ or sometimes ASL, is an honor society which celebrates the scholarship and leadership of adult students. Alpha Sigma Lambda is the oldest and largest national honor society for Non-traditional students who achieve and maintain outstanding scholastic standards.
The views and opinions expressed on this page are those of the employee and not necessarily those of Waubonsee Community College, its Trustees, or its administration.