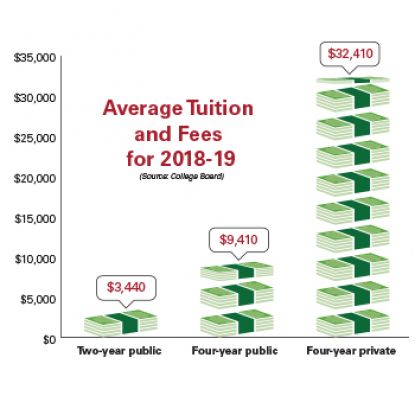 Tuition for Credit Courses
At Waubonsee, tuition for credit courses is charged based on your residency. Below is a chart listing current tuition rates per semester hour. Keep in mind that most credit courses are 3 semester hours each. Refer to the course schedule to determine the credit hours and any additional fees for a specific course.
Tuition Per Semester Hour
|   | Fall 2018 |
| --- | --- |
| In-district student | $128.00 |
| Illinois out-of-district student | $339.24 |
| Out-of-state student | $368.52 |
| International student | $368.52 |
| Online course tuition (for all students) | $128.00 |
Special Tuition Policies
In-district residents who wish to enroll at another community college to earn a degree not offered at Waubonsee can save money through Cooperative Agreements. Senior citizens can qualify for a tuition refund for certain credit courses.
Fees
Certain fees are charged in addition to tuition. Fees do NOT vary based on residency.
| | |
| --- | --- |
| Student fee | $8 per credit hour |
| Course fee | Varies per course |
| Re-enrollment fee | $50 |
| Payment plan fee | $25 |
| Late payment fee | $20 |
| Insufficient funds fee | $25 |
| Delinquent payment fee | $25 |
| Transcript fee | $5 online request / $10 written request |
Tuition and Fees for Noncredit Courses